Did you know that strawberries have more antiaging vitamin C per serving than oranges or grapefruit? Research published in the American Journal of Clinical Nutrition shows that people who eat foods rich in vitamin C have fewer wrinkles and less age-related dry skin than those who don't. Vitamin C also helps fight free radicals, which damage cells and break down collagen, leading to those dreaded fine (and not-so-fine) lines.
In this edition of the Skin School blog, we're sharing ways to get healthier skin from the inside and out, with simple strawberries straight from nature.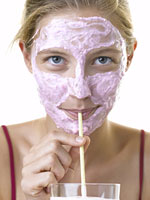 Sip it: Strawberry Smoothie Mask
In a food processor or blender, combine 1 cup frozen or fresh strawberries
(or a mix of strawberries, raspberries, and blueberries—they're all full of antioxidants). Stir together blended berries, 1 cup vanilla or plain yogurt, and 11⁄2 tablespoons honey (a great moisturizer) in an 8-ounce glass. Enjoy smoothie, setting aside enough to coat your face.
Smooth it on:
Apply remaining smoothie (from recipe at left) to your face over a sink (it's a little drippy at first, but a smooth layer will stay put), and leave it on for about 8 minutes before rinsing.
Be careful if you have any allergies when doing any type of at-home remedy such as this. And always check with a physician before beginning any new skincare regimen.
If you need more serious help with skin issues or something else that is troubling your skin, we are here to help. Skin health is an important part of total body wellness. Schedule an appointment today with one of our board certified physicians to get your skin the care it needs so it can reach its fullest, healthiest potential.
Contact Knoxville Dermatology Group at 865.690.9467.