Olive oil is great for you, but did you know it also has antioxidant, anti-inflammatory properties that help your skin, too? Since ancient Rome, olive oil has been known for its healing properties for smoother, more radiant skin."
Additionally, eating it provides antioxidants to fight free radicals and reduce inflammation. Inflammation is a major cause of wrinkles and sagging skin. In addition to incorporating olive oil into your daily diet, apply as a lip gloss and skin soother, as needed. If you have dry skin, it can really help.
Smooth it on: Olive Oil Quencher
Dab a pea-size amount of extra-virgin olive oil on lips to hydrate a parched pucker; or use it on rough patches (think elbows and heels), as needed.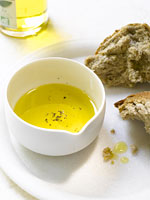 Eat it:
At dinner, drizzle a few tablespoons of extra-virgin olive oil into a small bowl, and dip whole-grain bread in it to improve your skin from the inside out.
If you need more serious help with skin issues or something else that is troubling your skin, we are here to help. Skin health is an important part of total body wellness. Schedule an appointment today with one of our board certified physicians to get your skin the care it needs so it can reach its fullest, healthiest potential.
Contact Knoxville Dermatology Group at 865.690.9467.