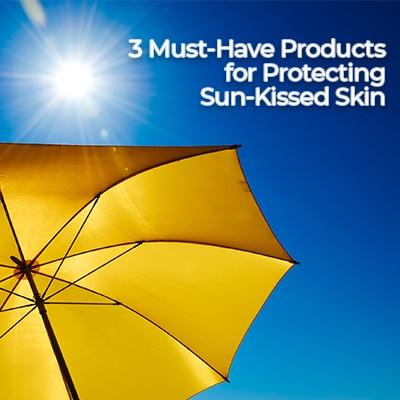 Are you ready to embrace your sun-kissed skin this summer? The sun's UV rays are damaging to the skin, so it's important to protect the body's largest organ before stepping out to the beach. Although sun-kissed skin gives us the appearance we desire, many don't realize the impact it has on our skin's health. In fact, in a study by the American Academy of Dermatology, 60 percent of men and 54 percent of women think that tan skin means healthy skin. However, when the sun darkens your pigment, it's actually damaging healthy cells in the process. To achieve the sun-kissed look we all want, be sure to use these three must-have products to keep your skin healthy.
Sunscreen
We know you're using sunscreen when you lie out to tan but are you using the one that's right for your skin? One in five Americans will develop skin cancer at some point, so it's important to choose a product that will be the healthiest and safest for you.
To make sure your skin is being protected against both UVA and UVB rays, the sunscreen you use must be broad-spectrum, water-resistant and have an SPF of at least 30. Use your product on your body as you spend time outside, even if you don't think you're receiving UV rays. Even on cloudy or rainy days, 40 percent of the sun's UV rays still reach the earth's surface.
For the best protection and natural aging, we recommend working a facial sun protectant into your morning routine. By adding this step, that takes just a few seconds, your skin will thank you down the line. It's necessary to choose a different product for your face than the body. Facial sunscreens are formulated with antioxidants to keep your pores clear and skin moisturized, all while protecting it from harmful UV rays.
Lip Protectant
Pucker up! Use a lip protectant to keep your lips hydrated and kissable this summer. Nearly 70 percent of people who use sunscreen while at the beach will forget to apply some protection to their lips. What's the fuss? Our lips do not have melanin or sebaceous glands in them, meaning they are more susceptible to sun damage and dehydration.
One of the easiest ways to keep our lips hydrated is by drinking water. However, without exfoliation, the skin on our lips will promote dry skin and cause them to crack. Use a lip scrub and soft toothbrush to exfoliate the dead skin cells. Follow the exfoliation with a lip balm containing an SPF of at least 30 to provide back up protection and hydration. Refrain from exfoliating too often or too forcefully because this will leave the lips red and raw.
Exfoliation
Exfoliation is a common practice at the end of winter, to shed the skin of any and all dead cells that accumulated throughout the cold season. However, it's also important to exfoliate the skin as we start to soak up the sun in the warmer months. Exfoliation increases blood circulation, which is the main factor in achieving healthy, glowing skin.
It's recommended to exfoliate twice a week with a body scrub that contains grainy particles, usually of sugar or salt. By exfoliating dead or dying skin cells before tanning, you're allowing the healthiest cells to receive sun. Doing this will help your tan last longer and remain even.
The dermatologists and medical professionals at Knoxville Dermatology Group have years of experience of providing safe sun tips, recommending products and checking for signs of skin cancer.