Pomegranates are one of the most antioxidant-rich fruits. Research shows this fruit's juice has more inflammation-fighting anti­oxi­dants than red wine or green tea.
Eat some fresh pomegranate or, use it in the age-fighting scrub recipe below; apply once or twice a week to remove dead skin cells.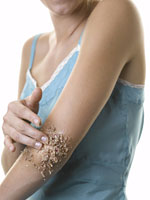 Scrub it on: Pomegranate Exfoliating Scrub
Cut off pomegranate crown, and score rind in sections, without cutting all the way through. Place in a bowl of water for 5–10 minutes. Break rind away from seeds, which will sink; strain seeds. In a food processor, combine 2 tablespoons seeds and 1 cup uncooked oatmeal. Transfer to bowl; stir in 2 tablespoons honey (an antiseptic) and 2 tablespoons buttermilk. Apply to face for a few minutes, then rinse. For rough patches (like elbows), add 3⁄4 cup turbinado sugar.
Eat it: Enjoy remaining pomegranate seeds (from recipe below) au naturel or with your favorite cheese.
If you need more serious help with skin issues or something else that is troubling your skin, we are here to help. Skin health is an important part of total body wellness. Schedule an appointment today with one of our board certified physicians to get your skin the care it needs so it can reach its fullest, healthiest potential.
Contact Knoxville Dermatology Group at 865.690.9467.